Leader in Digital Dentistry
Digital dentistry – why is it worth it?
Digital prosthodontics
is one of the greatest advances in modern dentistry. This is our dental future, thanks to which the work of the prosthodontist will be carried out efficiently and with simultaneous visualization of the results. Training under the guidance of Dr. Szuba-Paszkiewicz is a guarantee of the most up-to-date knowledge on
digital dentistry
provided in an attractive form. The training is aimed at both the implantoprosthodontist as well as the surgeon, endodontist or orthodontist. The training emphasizes the cooperation of specialists, especially for the doctor-technician team.
Benefit from the expertise of the leader in digital dentistry scan, plan, be digital.
Dr. Pawel Szuba-Paszkiewicz
, a graduate of the Medical University of Wroclaw, is a specialist in
digital dentistry and prosthodontics
. He took his first steps in his parents' office – this practice allowed him to gain invaluable skills already during his studies, which later proved indispensable in solving difficult clinical cases. Continuing a 50-year family tradition, in 2013 he created
ESTETIQUE Implantology and Digital Dentistry Center
in Polanica-Zdrój.
Since 2020, he has been working with the Investment Fund, creating the Dentity dental group within which he opened ESTETIQUE in Bielany Wrocławskie. At the clinic, he has his own dental laboratory, thanks to which prosthetic treatment of patients is fast reproducible and predictable, and direct cooperation between the doctor and technician facilitates the desired results.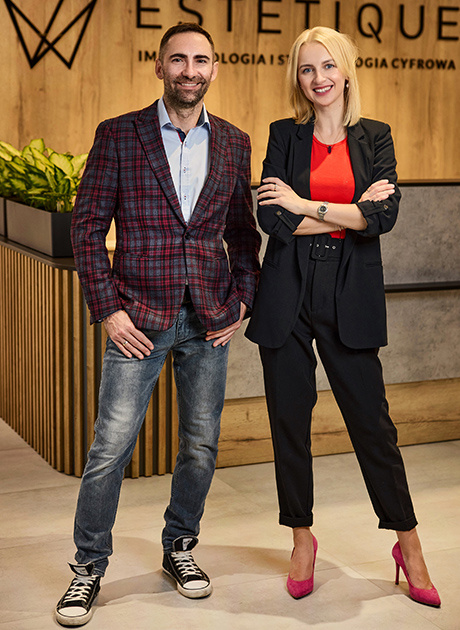 Metamorphosis by Flow Injection method.
The patient came in with a desire to change the shape and color of her teeth, particularly disturbed by the discolored upper one after root canal treatment. We first performed whitening of all teeth using the overlay method and covering the discolored one with a special blocker to finally achieve a harmonious shape and color, performing a procedure to cover all upper teeth with composite using the "flow injection" or "bonding" method.
Smile metamorphosis – bonding by Flow Injection method.
The patient came to our clinic to improve the aesthetics of his smile, both the shape and color of his teeth and to restore their proper function. A digital design of the new teeth was made and then the lower teeth were whitened, while composite restorations – or "bonding" by the "Flow Injection" method – were made on all the upper teeth.
Digital metamorphosis – trial veneers.
Based on state-of-the-art technological capabilities such as Computerized Tomography, facial scan, extraoral scans and digital smile design software, we were able to present our patient with simulations of her new smile and thanks to 3D printing, make our design realistic in the form of actual trial veneers that the patient could try on in real life, without performing any invasive procedures.
Smile metamorphosis – veneers.
This is what a digital smile makeover looks like using the latest computer-aided design methods. The trial veneers were placed on the patient in a completely non-invasive way. After the patient's acceptance of her new smile, the ceramic final veneers could proceed.
TRAINING FRAMEWORK PLAN
SCAN, PLAN, BECOME DIGITAL
4-DAYS INTERNATIONAL COURSE - SCAN, PLAN, BECOME DIGITAL!
Digital protocols from basic prosthetics to advanced  implant-prosthetic procedures with smile design & lab teamwork
Day I, 9:00 a.m. – 6:00 p.m. Centrum Estetique
▫ The digital office concept – let's start from scratch !!!
▫ Digital Dentistry Today – Possibilities and limitations – why the scanner is a must-have?
▫ Dental Intraoral Scanner – How it works, the key parameters, what's the most important during scanning and crucial aspects in post-scan analysis
▫ Errors, issues and mistakes during scanning – how to recognise and avoid future problems – What your analog impression won't tell you while digital scan immediately will
▫ Basic scanning protocol as the starting point for prosthetic consultation. Advantages and limitations of digital workflow. Digital to analog impression – where is the line? How to jump across the barriers?
▫ Cyfrowa rehabilitacja – full arch/mouth rehab. Skanowanie pełnych łuków w relacji centralnej – zajęcia praktyczne
▫ The Importance of bite accuracy in digital dentistry – multiple bite registration protocols, bite validation, how to achieve stable MIP and Centric Relation position for precise bite acquisition?
Hands-On Part I
▫ Practical application of knowledge during scanning – basic mutli-bite scans, implant crown Scanbody scanning, pre and post preparation scanning getting familiar with different IOS useful software tools ( cut/paste/undercuts/blocking/prep and margin line check etc..)
▫ Scan quality analysis. Bite validation and analysis
▫ Summary and discussion
▫ Depending of the participant's needs – case presentations with  specific issues solved -previously enlisted by the attendees
Day II, 9:00 a.m. – 6:00 p.m. Centrum Estetique
▫ Let's go shopping – modern digital dental office – the proper direction and sequence of stocking up with the equipment and knowledge
▫ The relationship between dentist and dental lab technician – Digital teamwork & cooperation protocols – we're on the same team !!!
▫ Original method of prosthetic filed preparation for digital impression – Dia-CT ( Diathemy-Guided Chemo-Mechanical Retraction) – step by step
rozwiązania
▫ Soft Tissue management in the digital environment – respecting the biological width, avoiding black triangles with digital predictability and protocols
▫ Advanced scanning protocols – fullarch/ fullmouth rehabs, introduction to the basics of digital axiography
Hands-On Part II -Advanced IOS Prosthetics
▫ Retraction and scanning, full arch preparations scanning with pre-scanned and precisely preserved OVD
▫ Implant prosthetics scanning – worth-knowing tips&tricks, important facts and useful solutions. AllOnX intraoral scan protocols and possibilities
▫ Edentulous ridge & denture scanning – digital preservation of patient's OVD, Over-The-Denture smile design &hybrid digital-to analog denture workflow – case and scan presentation
▫ Summary & end of day II
▫ Discussion
Day III, 9:00 a.m. – 6:00 p.m. Centrum Estetique
▫ A complete digital consultation
▫ A complementary concept of data collecting and patient's digitalisation
▫ A "must have" smile photo/video protocol – static & motion, Smile designer pro vs Smile Cloud,
▫ The Photo-DFA Concept – A mixture of concepts such as Facebow and DFA, with a help of a certain portrait photo, incorporated into CAD designing program (such as Exocad) will let you get rid of either DFA or Facebow in your digital World !!!
▫ The virtual patient – how collected data are being exported and processed by a dental lab in the ExoCad designing program – live demonstration by dental technician
▫ A complete protocol for digital consultation – clinical live presentation with patient
▫ Medical interview, scan&bite registration, clinical examination, CBCT scans, digital condylography and in-motion recordings of occlusion
Clinical hands-on: work with the patient:
▫ Digital interview and consultation, scan & proper bite registration (MIP, Centric, Canine guidances and Protrusion )
▫ Clinical extra- and intraoral examination
▫ Complete photo/video step-by-step protocol execution
▫ Summary, discussion & end of day III
Day IV, 9:00 a.m. – 4:00 p.m. Centrum Estetique
▫ Complementary commandments of smile esthetics, in theory and practice – the anatomy of aesthetics, macro and micro aesthetics. Rules and guidances to assess a perfect smile design&execution
▫ Working with Smile Designer Pro – how to design and communicate with the lab to achieve predictable esthetics and functional effect
▫ Smile Design Step-by-step – live presentation
▫ The installation of Smile Designer Pro and SmileCloud software – own computer required (PC/MAC/iPad)
▫ Advanced procedures and possibilities of Smile Designer Pro program – practical exercises
▫ Sile Designer Pro vs Smilecloud – the differences, helpful tools to communicate with the lab technician
▫ Designing the smile – Advanced hands-on training
▫ Practical implementation of collected informations and digital data transfer to the 3D lab environment . Live presentation of cases from the dental lab perspective.
▫ Summary, discussion & end of day IV
Dr. Paszkiewicz has been extending his knowledge intensively during his 20-year career, actively participating in specialized courses. Thanks to the training he has completed and the experience he has accumulated, he has become a consultant and lecturer for many companies, such as Tokuyama, Carestream Dental, TagDental, Harvard Dental, Lasotronix and Cerkamed.
Currently an feedback leader for intraoral scanner companies – Carestream, Medith, Shining 3D.
Dr. Paszkiewicz is the author of a number of innovative digital working techniques, impression taking methods (DiaC-Traction), SDP digital smile design, or minimally invasive smile reconstruction methods.
He is a specialist in prosthodontics, as well as a member of the Dental Master group, and has been a lecturer at the Wroclaw Medical University since 2020.
He trains doctors all over the world among others: in Dubai, London, Cairo or Barcelona.
In his spare time, he keeps a guitar instead of a scanner, which he puts away in a corner during the winter and a snowboard takes its place.
ul. Łąkowa 16
57-320 Polanica Zdrój
Training Coordinator.
Marcelina Zielińska
Write to us - book a date